Sassy Luke : Artist Profile and Exhibitions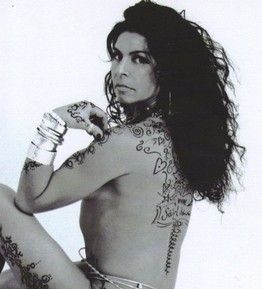 Sassy Luke was brought up in the wilds of Cornwall, where, without a television, she was read stories to by her father. Without doubt, this was the starting point when her imagination leapt into gear. Books including those by C.S Lewis, Roald Dahl, Oscar Wilde and especially the books 'Strewell Peter'(banned for many years) and Edward Lear.

From this point the images conjured up by her imagination were forever indented on her mind. In her late teens Sassy moved to a mountain village in Andalucia, where she was blown away by the exquisite Moorish architecture, bull fighting areana's, the ceramic tiles and the intense shadows created by the harsh sun. These memories have been an inspiration for her later work. Sassy expanded on her reading whilst living here, especially intrigued by 'gitano' customs and folklore.
Sassy trained at The London College of Printing, Brighton College and the University of Brighton. In Brighton Sassy was lucky enough to have some very inspiring tutors at the University. They encouraged her love of thought provoking surreal novels (including those by Kafka, Angela Carter, Catherine Dunn and the poetry of Tim Burton). Alongside this she exploited her love of magnificent architecture and was often to be found drawing in the 'Theatre Royal'.
The appreciation of art had also been instilled in Sassy from a very young age. Along with her parents she was often to be found in the company of the Newlyn School of Art and the St Ives School , (with the likes of Molly Parkin and the artist Patrick Hughes she would swim in the Cornish sea, winter and summer alike). Sassy has a wealth of artists that have inspired her in various ways including Goya, Dali, Bosch, Hopper, de Chirrico, Michael Angelo, Da Vinci and Rego.
Exhibitions
Sassy has exhibited widely throughout the UK, including:.

The Sussex Open, 1996 & 1998 - Brighton Museum and Art Gallery.

The New Designers, 1997 - Business Design Centre, Islington, London

Prisoners Abroad, 1997 - The Gallery, Whitechapel. London.

Solo Show, 1998 - The Sanctuary. Hove, East Sussex

Rising Stars, 1998 - Coombe Farm Gallery, Devon

Brighton Festival, 1998 - Brighton, East Sussex

Solo Show, 1998 - Theatre Royal, Brighton

Solo Show, 1998 - Sussex Arts Club, Brighton

Solo & Group Shows, 2005/07/09/10 - Hastings Arts Forum. St Leonards on Sea, East Sussex

Solo Show, 2009 - DMH Stallard Solicitors. London

Solo Show, Summer 2011 - Love Studios, St Leonards on Sea, East Sussex
Solo Show, 2012. Isabel Blackman Gallery. Old Town. Hastings. East Sussex
Icons, 2013. The Kave Gallery, St Leonard's on Sea. East Sussex
Solo Show, 2013. The Garage. Petersfield. Hampshire
Group Show, 2014. The Body Circus. Hastings
Solo & Group Shows. 2014. The Arts Forum. St Leonards on Sea